Dear Aimoo Owners:
New skin edit function has been online, in Aimoo Control Panel -> Skin & Style -> Skin Design, it is more convenient than old function of Skin Edit. You can edit your skin using one of them.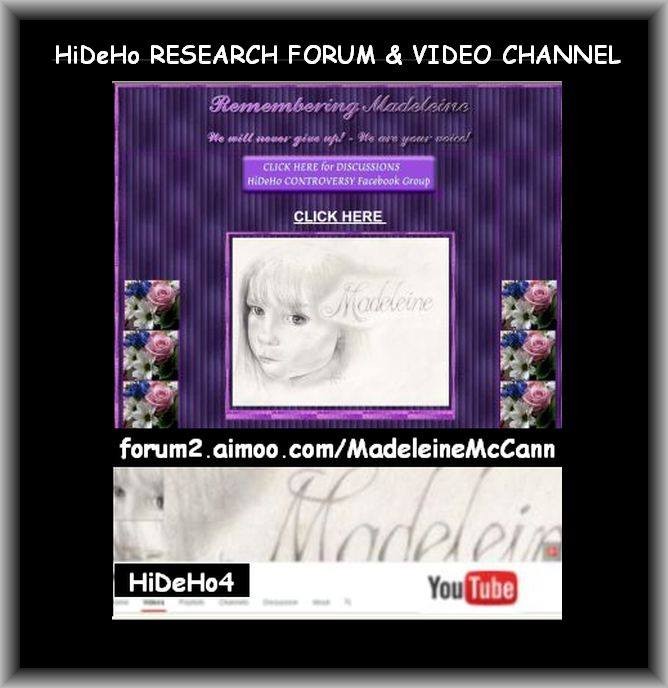 TinLizzy

Date Posted:03/05/2011 3:32 PMCopy HTML

GA: In fact there is another situation with Mathew Oldfield who says he went inside the apartment and states that he saw two windows, and his wife says that moments before that, minutes earlier, he had listened at the two bedroom windows, so that detail of the two windows, which seems to be a mistake but it's not quite so, therefore, if they had been in the bedroom they would know that there was only one window in the bedroom, even outside of the bedroom if they had been listening it would only be one window as well, therefore there is only one window.


TinLizzy
Share to: #1

Re:Window

Date Posted:03/05/2011 9:46 PMCopy HTML

there is the window where we found Kate's finger prints, the mother of the girl. She said that she had never touched that window, and

the cleaning lady assured that she had cleaned it on the previous day.

And above all she said that the window was open when it was closed, it doesn't add up.

Q -

Would it be possible that the mother or the father closed the window later, when returning to the room to search for the girl?

A -

There are three people who say that they walked in front of the apartment and saw the window closed. They did not state that it was open? Which left? And there are other things. The mother says that she entered the room and the windows were open and the shutters were raised. No one else saw that.

They simulated an abduction. They wanted us to say that someone entered the apartment with the intention of theft and when they saw the girl they killed her

.
Copyright © 2000- Aimoo Free Forum All rights reserved.