Dear Aimoo Owners:
New skin edit function has been online, in Aimoo Control Panel -> Skin & Style -> Skin Design, it is more convenient than old function of Skin Edit. You can edit your skin using one of them.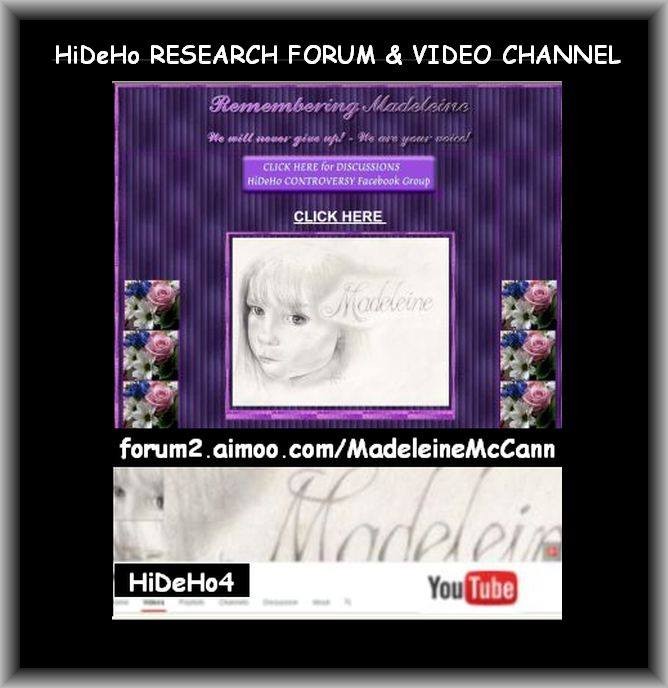 TinLizzy

Date Posted:05/22/2012 12:19 PMCopy HTML


SUNDAY

SUNDAY APRIL 29
Madeleine McCann AM
Amelie & Sean
9.45
?
KM
?
12.15
?
GM
?
Madeleine McCann PM
Amelie & Sean
Ella O'Brien
2.45
2.25
2.45?
GM
KM
-
5.30
5.30
3.00(30)
GM
GM
ROB?

K&G had tennis lessons - JEZ played with Gerry but although Kate was there she didn't play...probably because she played the hour earlier.

Everyone went to breakfast

At about 1.15pm Cleaner -

María Serafim da Silva Espada

saw family leave the apartment, Madeleine with shoes that lit up and the twins, all holding bread and Kate with a plate and Gerry locking up

Louisa saw tall man with Madeleine who asked to book tapas for week...Could this have been ROB with E**A as it had to be booked in morning and Madeleine was in the creche. The similarity of Madeleine and E**a is amazing..very easy for each being mistaken for other (except hair colour)

http://www.gerrymccannsblogs.co.uk/PJ/GREYSCALE_SNAPS.htm

Sunday night MO was sick and did not go

ROB claims to have used MO key to check his children

Gerry May 16th admits to using blinds and he broke them on Sunday and had them repaired on Monday (documents show it was Tuesday)


Sun 29.04.2007

Breakfast Millennium Restaurant

? pruning of hedge

Morning Kids Club

10:00 morning talking over coffee, I went along to tennis

Lunch sandwiches →

→ F balcony and Dave

Kids Club afternoon

Seated in deck-chairs F A A

K and G run - Beach 16:00

High tea

Recreational area

Rest.: No Matt
Copyright © 2000- Aimoo Free Forum All rights reserved.