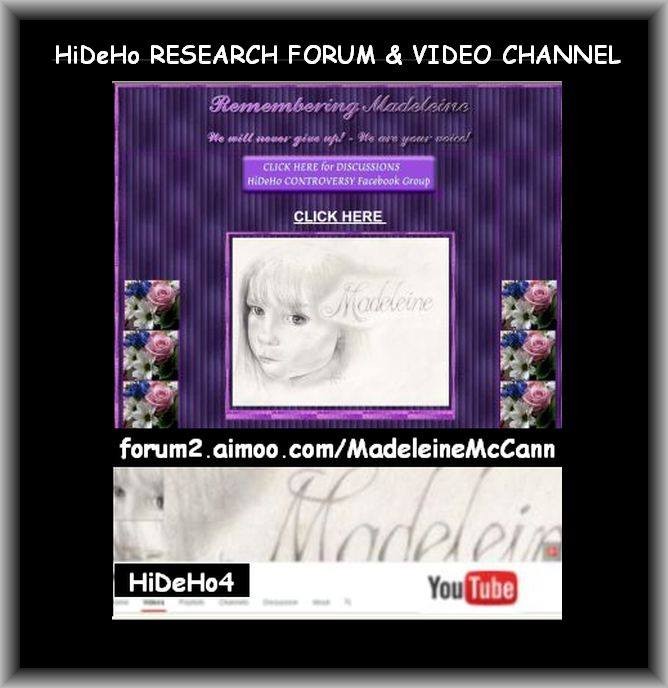 TinLizzy

Unsubscribe Thread
Rank:Diamond Member

Score:1787
Posts:1787
From:Canada
Register:11/07/2008 1:17 AM

Date Posted:03/05/2011 5:12 PMCopy HTML

Q: Do you believe that we will know what happened to Maddie one day? Will we get to know the truth?

Yes. There were 9 people in this Holiday Group. Maybe they do not know that the girl is dead, but they could have received instructions about what to say, such as "you went to the room and you saw the girl", however they know that this is not true. By that means the case could be re-opened; one day the full truth could be known.

TinLizzy
Share to: #1

Re:Re-Opening

Date Posted:03/05/2011 5:24 PMCopy HTML

all have stated that they were carrying out regular checks, but the day could come when they retract their statements and say that somebody asked them to say this.

TinLizzy
Share to: #2

Re:Re-Opening

Date Posted:03/05/2011 5:24 PMCopy HTML

He says that more than one person can still give information, said that even within the group of 9 people there still exists the possibility that anyone of them can talk about something that could reopen the case file

TinLizzy
Share to: #3

Re:Re-Opening

Date Posted:03/05/2011 9:36 PMCopy HTML

Payne having strange behaviour during a trip to Mallorca, but this information was not sent to the Portuguese police until October 26. Nothing has been done to neither check this witness statement by the British police nor by the Portuguese police. Therefore this investigation could yield new data that would re-open the case. It should be taken into account that, according to his statement, he was said to be the last person to have seen Madeleine (about 19h00).

Payne was also identified as the person who was with McCanns the following morning when an employee of the British Social Services turned up at the apartment to offer her help (Mr. Amaral clarifies that she is a person with 25 years of experience) and claims that she was kept away from the couple on the advice of Payne. She says she knows David Payne from other cases she worked on in the past. Mr. Amaral says this should have been investigated in England as well as in Portugal.

TinLizzy
Share to: #4

Re:Re-Opening

Date Posted:03/05/2011 9:40 PMCopy HTML

Reme: Is there any chance that the investigation may be re-opened soon?

G.A.: Yes. The case is not closed and can be re-opened if there are relevant data. You can see from the police file that has been handed to reporters that there are still some procedures that have not been carried out.

For example there is information that can't be said whether it is new or old.
Copyright © 2000- Aimoo Free Forum All rights reserved.