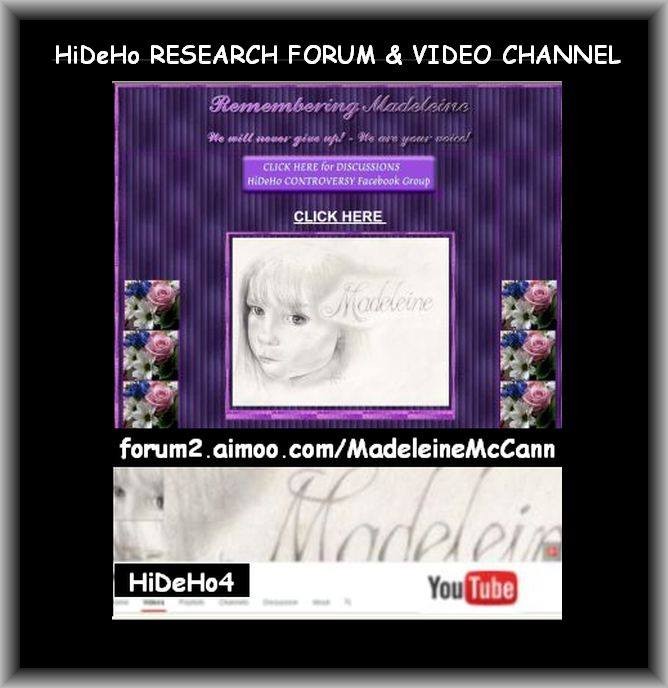 TinLizzy

Unsubscribe Thread
Rank:Diamond Member

Score:1787
Posts:1787
From:Canada
Register:11/07/2008 1:17 AM

Date Posted:03/05/2011 5:17 PMCopy HTML

Also on 5th May 2007, two days after the announcement of Madeleine's disappearance,

the police, according to Amaral, would commit an important error: "We were busy checking all the traces that came with the Ambassador. Traces that were moreover, found to be false".

New instructions from the regional national directorate of the PJ, given after the intervention of two British diplomats – Ambassador John Buck and Consul Bill Henderson – turned the investigator's attention away from the McCanns

.

Kate and Gerry McCann, for the first and only time, went to hand in clothes to be washed in the Complex laundry, including Madeleine's clothes, which the inspectors only heard about two days later. Too late, according to Amaral.



"At the time we had not established exactly which clothes Gerry was wearing on the night of the disappearance nor which clothes were handed in to be washed on 5th May", says Gonçalo Amaral.

It was by means of the statements by various members of staff from the complex, linked to the laundry service, that the inspectors were to learn that the McCanns had their children's clothes - those of Madeleine and also those of Sean and Amélie - washed.

"That would never have happened without the intervention of Mark Warner and, in particular, of the Ambassador. They took advantage of the space we gave them, It was a mistake on our part", admits Gonçalo Amaral.

"Last Saturday (05/05/2007) I received a bag of clothes brought in by Mark Warner staff, and was told expressly that these belonged to Madeleine's family – there was adult clothing (male and female) and children's clothing... ", states one of the laundry workers.

Although the laundry worker only remembers a pink skirt belonging to Madeleine, she has no uncertainty in confirming that there were also other clothes belonging to the small British girl, which has also been confirmed to the police by other colleagues.

TinLizzy
Share to: #1

Re:Mistakes

Date Posted:03/05/2011 5:27 PMCopy HTML

The police should have been able to analyze the clothes Madeleine wore when she left from the creche to see if there was any sign of violence on them. That is something normal in any investigation. In this case it seems they had changed her clothing, since they said that she was wearing her pyjamas. He would like to know where those clothes are. He says he made the mistake of treating them too soft-handedly, that they felt pressurised regarding this theme, as well as to the taping of telephone calls.
Copyright © 2000- Aimoo Free Forum All rights reserved.