http://www.gerrymccannsblogs.co.uk/PJ/PHONE_TEXTS.htm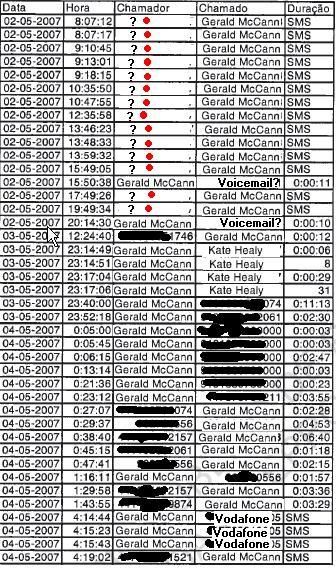 14 text messages received from same caller on the 2nd.
I should add, I don't think the "same caller" was a member of the Tapas group, it's not one of their listed numbers.
What was happening on the 2nd?
UPDATE
The number that sent the 14 received text messages is: +447818520047
This is a Vodaphone voice mail service number - I rang it and that's what it says.
They will be messages notifiying him of a voicemail message being left.
Gerry (or someone) checked his voicemail twice in the evening by dialling 91121 (Vodafone voicemail).
So Gerry was getting voicemail throughout the day from one or more callers.
He didn't respond to any of them using his mobile on the 2nd or 3rd of May.
He got no voicemail messages on May 3rd.
He got 4 on May 4th.
<!-- l -->
viewtopic.php?f=35&t=23910&st=0&sk=t&sd=a&start=330
<!-- l -->
Gerry Text Message Riddle
<!-- m -->
http://www.thesun.co.uk/sol/homepage/ne ... 441236.ece
<!-- m -->
Gerry Denies Mystery Texts:
<!-- m -->
http://video.news.sky.com/skynews/Home/ ... ry%2BTexts
<!-- m -->
*************************************************
"Dial: 08.48 Angela Morado" is there and there are earlier calls before to her. I think possibly the phone only stores the last time a number rang - same with Kates? Not sure, looks like it might, but she has repeated dialled numbers in the list.
This could explain why he has 9 calls listed. A space was freed up?
Angela Morado is a Consulate Official, she rang him first at 00.29
**************************************************
John McCann talks about the phone calls:
<!-- m -->
http://today.msnbc.msn.com/id/21134540/ ... 1#21790641
<!-- m -->
*****************************************************
<!-- l -->
viewtopic.php?f=35&t=23910&st=0&sk=t&sd=a&start=195
<!-- l -->
*******************************************************
This is where I think we are:
May 2nd
Gerry had his phone switched off all day until probably 15.50
Vodapone his phone receives the 12 SMS messages stacked up for him on the network.
The last one of those was a "2 hourly" Voicemail reminder of previous new voicemails.
The other 11 are "new voice mail" alerts.
Gerry was left 11 voicemail calls from between 08.07 to 13.59
Some of them only minutes apart e.g. 9.10 - 9.13 - 9.18
Gerry rang his Voicemail using 91121 at 15.50
He listened briefly for 11 seconds and ended the call
He switched his phone off
He still had Voicemail he hadn't listened to
He was sent more "2 hourly" reminders
He switched his phone on again at 20.14 and rang his voicemail on 91121
Again it was a short duration, but no more reminders were sent him after this
He must have deleted them
So I believe that Gerry was got 11 voicemail messages on the morning of 2nd May.
He said he got calls from work, but I don't think he ever said these were calls from work.
<!-- l -->
viewtopic.php?f=35&t=23910&st=0&sk=t&sd=a&start=480